✅ NEW - car park, swimming pool, 24 hours light/security and more.
Highly controversial, unapologetic and certainly not one to shy away from a fight, Keshi, arguably the most successful Nigerian coach ever, is the source of some of the most provocative, debatable and notorious quotes on himself and Nigerian football in general.
Here is a compilation of his top controversial quotes: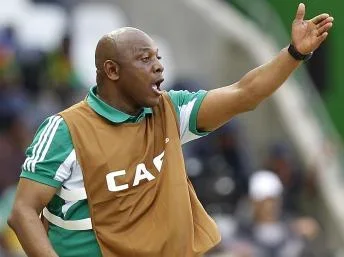 1. "In my team, I think that Mikel is in good shape, with the wealth of experience he has, all his years in the Champions League, I think he's very important for us in the team, and we just have to make the best of the situation."
- Keshi in defence of Mikel Obi.
2. "It's football. Brazil lost 7-1 and we lost. Everybody is going to lose someday. We cannot win all the games all the time. To Nigerians, we say this kind of thing happens at times, this is football.''
- Keshi after Nigeria lost 3-2 to Congo in AFCON qualifying match.
3. "I'm always criticized. Even if I win or draw, they will always criticize me. We don't have the patience in my country. In every outing, they want to win at all cost. It does not make any difference when am criticized.
– Keshi after a Super Eagles loss.
4. "Ikechukwu Uche is not a player I have not seen play. Ike Uche's problem is not about not knowing how to play football. His problem is that he wants to dictate how we play in the Super Eagles; he wants to tell us that the system we're playing is not good."
- Keshi unleash grievance on Ike Uche.
5. "I was with Ike Uche in South Africa during the African Cup of Nations in South Africa. I have no personal grudge against him. He is a good player. But not all good players play for their national team. If you are not a team player, you can't play for me."
- Keshi still on Ike Uche.
6. "Ike Uche was supposed to be part of the team that is presently in camp but he said we must beg him first to play for Nigeria."
- Another on Ike Uche
7. "Talks over a new contract shouldn't drag on. I can't wait any more – the NFF is not serious. I have moved on. I can only wish the country well for the future."
- Keshi on NFF indecisiveness.
8. "In Mali, they will never owe you. Your salary will hit your account before the end of every month. It was the same thing in Togo. Owing me up to seven months makes me feel I am not being appreciated.
- Keshi compares Togo and Mali.
9. "Before these players started playing football, I've made my money. They cannot give me money to satisfy my hunger. In the past, other coaches did it. I, Stephen Okechukwu Keshi can't be bribed. You can't bribe me. There is nothing you can use to entice me. Nobody has money to buy me because I'm well by God's grace."
- Keshi reacts to accusation of bribery.
10. ''Messi is a blessing to football. You can't take it away from him. There are other talented players in the Argentine team but I think that Messi is from another planet. Messi is from Jupiter."
- Keshi on Messi VS Ronaldo argument.