An upper Area Court in Jos, on Wednesday sentenced two young men to various terms of imprisonment for conspiracy and illegal possession of arms.
The court sentenced Ndubuisi Eluwa and Usman Sarki to nine months imprisonment each, with an option of N9, 000 fine on the first-count charge of conspiracy.
Eluwa was also sentenced to 9 months imprisonment with an option of N9, 000 fine for the second-count charge of illegal possession of a locally made gun and and ammunition.
Sarki on the other hand, bagged a prison term of 30 calendar months without option of fine on the second-count charge, having previously appeared before the same court on similar charges.
The Judge, Malam Mustapha Hassan, said the prosecution had done an excellent job of convincing the court on the culpability of the the two.
``The prosecution has tendered evidences against the accused that convinced the court beyond reasonable doubt that they committed the offence.
``The court has relied heavily on the confessional statement of the accused to convict them.
``The court has also relied on section 157 (i) of the Criminal Procedure Code (CPC) that stipulates quick judgement for anybody that pleads guilty to his or her crime.''
Earlier, the Police prosecutor, Mr Shuaibu Tambaya, told the court that the accused persons committed the offence on Aug. 7, 2013, at about 8 p.m.
Tambaya further told the court that the accused were arrested at West of Mines Area of Jos by a police constable, Daniel Michael, while in possession of the gun and cartridge.
``The accused persons were taken to `A' division police station by the police officer that arrested them.
``The matter was later transferred to State Criminal Investigations Department for discreet investigation, `` he said.
Tambaya tendered the locally made pistol and one cartridge as exhibit before the court, saying the offence was contrary to section 27(1) (b) of the Firearm Act cap F 28 of the Federal Republic of Nigeria.
When the case came up for hearing, the accused pleaded guilty to the two-count charge, saying that it was unemployment that pushed them into crime.
The judge warned them to be of good behaviour after serving their prison term, adding that the court would not be lenient with them in future if they appeared before it again.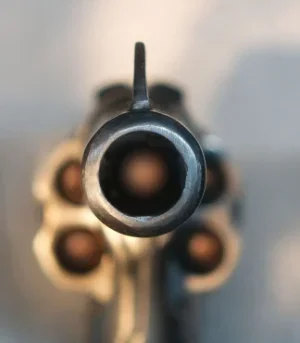 PLACE YOUR ADVERT HERE
Connect with people interested in education, social, crime and health News!
[824]