The Speaker of the House of Representatives, Aminu Tambuwal, has called on the youth to shun violence and avoid being used as political thugs as the 2015 general elections draw near.
Tambuwal made the call in Abuja on Wednesday at a public lecture, organised by the National Association of Political Science Students (NAPSS), University of Abuja Chapter.
The theme of the lecture was "Conducting Free, Fair and Credible Election in 2015: the Roles of Political Party".
Tambuwal, who was represented by his Special Adviser on Legal Matters, Mr Chille Igbawua, said, "I believe that many of the youth will be involved in 2015 general elections as ad hoc officials; it is a time to sensitize them about the process of elections. Part of the problems of elections in this our country is violence and we know that those who engineer violence are not youths but those who perpetrate it are youths.
"Those engineering the violence often stay at the background and push the youth forward to go out and carry out violence. However, when you and I begin to sensitize the youth about the processes of the forthcoming elections, then, they will realize that violence has no place in this country,'' he said.
The speaker called on eligible voters to eschew apathy and perform their civic responsibilities to ensure the success of next year's general elections.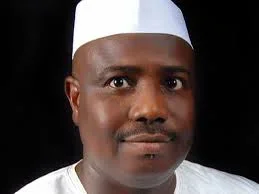 [1054]