President Muhammadu Buhari has ordered the Economic and Financial Crimes Commission, EFCC to investigate any Nigerian, no matter how highly-placed.
Mr. Ibrahim Magu, Chairman of the EFCC has also set up the commission's game by inviting and interrogating alleged corrupt officials though no single person has been brought to book on any matter but pending corruption cases lies fallow at the Court room.
Here are four prominent Nigerians currently in the net of the Economic and Financial Crimes Commission:
1. Reuben Abati:
EFCC invited the former Presidential Spokesman to Goodluck Jonathan for receiving N50m from ex National Security Adviser, Sambo Dasuki.
2. Bala Mohammed
: The immediate past minister of the federal capital territory (FCT): was arrested for alleged land racketeering. EFCC sources said the agency was acting on petitions from the public about how he allegedly sold government lands to some individuals and collected payment in cash.
He was also asked to justify his wealth.
It was learned that Mohammed's trouble with the EFCC has to do with the controversial N1 trillion "Land Swap Programme" under which his administration traded large parcels of public land with some 'selected' private individuals and companies to develop housing projects in the FCT.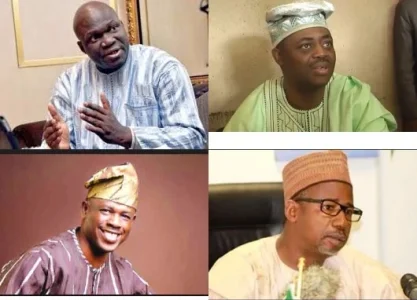 3. Musiliu Obanikoro:
Former minister of state for defence turned himself in weeks ago over allegations of corruption relating to bribery of army officers, electoral fraud and money laundering involving some N4.7billion that was taken from the office of the former National Security Adviser (NSA), Rtd. Col. Sambo Dasuki.
EFCC revealed that Mr. Obanikoro has confessed to officials involved in negotiating his return to taking money from the NSA to win the 2014 Ekiti State gubernatorial election at all cost for Ayodele Fayose, but conceded that only N800million made it into his private pockets. He also revealed that out of the money allegedly from the NSA, N1.7million was given to former Senator Iyiola Omisore, while now-Governor Fayose stole the rest.
4. Feni-Fani-Kayode
: Former minister of Aviation and and ex-Director of Media and Publicity in the campaign organisation of ex-President Goodluck Jonathan was rearrested for new evidence that he collected huge cash directly from the embattled former National Security Adviser, Col. Sambo Dasuki, in the build-up to the 2015 presidential election.
The amount allegedly collected by Fani-Kayode, according to the source is different from the N4.9 billion, which he and the former Finance Minister, Esther Nenadi Usman, Danjuma Yusuf and a company, Joint Trust Dimension Nig. Ltd., reportedly collected from the ONSA ahead of the presidential election.
The EFCC has already slammed a 17-count charge against them for taking the money from the public treasury and retaining same without rendering any verifiable service to the nation.
[1334]