✅ NEW - car park, swimming pool, 24 hours light/security and more.
Governor Ibrahim Gaidam of Yobe State and his Kano, Jigawa, Kebbi and Zamfara States' counterparts have congratulated the Kingdom of Saudi Arabia and its leadership as the country marked its national day at the weekend.
Speaking on behalf of the other governors who attended the ceremony organised by the Saudi Consulate in Kano at weekend, Gaidam said the Saudi National Day celebrations "offer opportunity for deep reflection on the milestones that have been achieved by the kingdom…and for the review of the historic cultural ties between Saudi Arabia and Nigeria."
The governor, who travelled down memory lane to situate the relations between the old Kanem Borno Empire, comprising of present day Borno and Yobe States with the Kingdom of Saudi Arabia, said relations between Nigeria and Saudi should continue to wax stronger.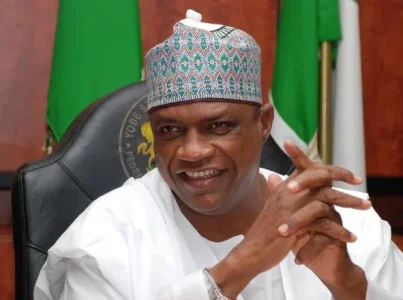 "We should continue to diversify and strengthen these relations for the mutual benefit of our countries," he said.
An Independence cake to mark the Saudi Day was jointly cut by the Vice Consul-General of the Saudi Consulate, Mr. Yousef Ibrahem Alghamdi and dignitaries, including Gaidam, Kano State Deputy Governor Prof. Hafeez, Governor Atiku Bagudu of Kebbi State, Governor Badaru Abubakar of Jigawa State and the Deputy Governor of Zamafara State Alhaji Ibrahim Wakkala.
The Vice Consul-General of the Saudi Consulate, Alghamdi, said relations between Nigeria and Saudi Arabia has been growing for many years and would get even stronger in the years ahead.