Founder of the Synagogue Church of All Nations, Prophet T.B. Joshua in January released his prophecies for 2016.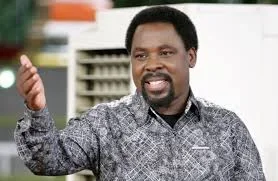 The prophet who addressed his followers live on Christian television network Emmanuel TV made some predictions that have undoubtedly manifested in the year.
Below are some of his prophecies that came through:
1. "There will be large scale scarcity, shortage of food," undoubtedly, Nigerians have and is still experiencing this.
2. "As a state, country, continent, we have to go back to the farm to arrest, to alleviate the forthcoming situation. I encourage the governments of all nations to invest in agriculture and to grant loans to deserving citizens to augment this effort." This may seem like a
3. Prophet TB Joshua also stated that the frequency of terrorist attacks in the continent would increase and judging from the home front, Nigeria has witnessed more attacks from the dreaded Boko Haram sect in 2016..
4. "More African countries will be under siege by terrorists because of pros and cons in choosing leaders.
5. "The president will do everything to reject devaluation of the naira – which is a good idea from a good leader."
[5172]