The news of former Internally Displaced Persons, IDPs, eating wild plants came as a shocker at the beginning of this week. According to the report by Daily Trust, hundreds of returnees in communities liberated from Boko Haram in Yobe state have resorted to eating a wild plant and coffee pod.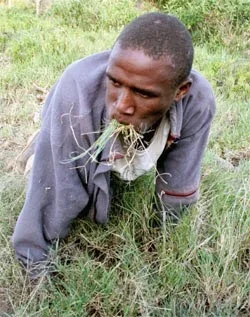 Worse still, the returnees most of whom have no homes, relatives or handiwork took to begging to raise a means of survival.
These developments leave more questions to desire of the federal government capability not only to defeat Boko Haram on the battle ground but also in the liberated communities.
Here are 6 key things President Buhari should put in place to make life better for the over 1, 491,706 returning IDPs.
1. Direct empowerment
Though most of them have lost contact with the peaceful world for a while, the skills expended on their engagement before the war would still be intact. The federal government should develop a means of identifying these skills and set them up in sustainable capacity.
2. Food
A typical IDP has 3 major problems; food, food and food. As widely reported in the media, one of the basic challenges in the camps is the issue of food. The federal government should take responsibility for this for at least 2 to 3 months after returning home. This is to allow them settle to normal lifestyle.
3. Health
In the camps, the health condition is worse; poor sanitation, lack of toilets, poor access to clean water list as major challenges which sometimes lead to child killer disease outbreaks like cholera, malnutrition and the likes. In a bid to prevent establish a healthy lifestyle for them, attention should be focused on the health of returnees.
4. Education
The federal government should take good interest in the curriculum of the schools. The advantage of this are many; first, there will be a proper monitoring as to the content in order to prevent wrong teaching which may instigate another religious extremism. Secondly, such curriculum need to be rehabilitative, the children have to forget the horrible experiences of war in order to forge on with life.
5. Security
Boko Haram insurgents cannot be totally wiped out. Thus, the government should provide adequate security to keep the lives of returnees in safe condition. This could take the form of community policing in order to reduce cost.
6. Screening
The screening should take many forms; security, health, education. Security in order to prevent harmful infiltrators, health in order to prevent an epidemic and education in order to prevent extreme teachings.
[843]