✅ NEW - get your business listed and your information shared across social media.
The Vice President of Nigeria, Prof Yemi Osinbajo was a Guest speaker at The Platform 2017, programme convened by Pastor Poju Oyemade of the Covenant Christian Centre in Lagos.
Here are 9 important details from the Vice President's speech:
Recession

1. There is light at the end of the tunnel. Inflation is slowing; government revenues are being boosted through fiscal discipline and tax reforms; fiscal, monetary, FX and trade policies are being aligned.
Rice Production
2. Through the CBN's Anchor Borrowers Program the Federal Government has been able to provide financing for the production of about 5 million tons of rice so far. The goal is for Nigeria to produce all its rice locally by the end of 2018.
3. By improving fertilizer supply, and fertilizer application methods, farmers have seen crop yields double from 2 tons per hectare to 4.5 to 5 tons per hectare (up to 9 tons per hectare in some states).
4. Through the CBN's Anchor Borrowers programme, the Federal Government is providing financing for hundreds of thousands of farmers. On the back of this, local rice production has almost tripled. In 2016, Nigeria imported only a tenth of the volume of rice it imported in 2015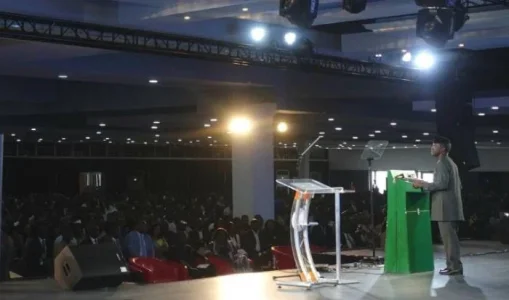 Jobs
5. Fertilizer is now N5,500 per bag, roughly half its usual price, thanks to the Presidential Fertilizer Initiative — which has also so far created 50,000 direct jobs and 120,000 indirect jobs.
Ghost workers
6. The Federal Government has registered 60% of civil servants on the Integrated Personal Payroll Information System (IPPIS), and removed 58,350 ghost-workers from the payroll, resulting in savings of N92.47bn between January 2016 and April 2017.
Others
7. The Federal Government has set aside N50bn for improving existing Special Economic Zones and establishing new ones, to support industrialization.
8. Through the reform work of the Presidential Enabling Business Environment Council (PEBEC), the Corporate Affairs Commission (CAC) is implementing reforms that have made the process of business registration easier and faster.
9. To improve power supply, the Federal Government has approved N701bn as payment guarantee to Generation Companies and Gas Producers.
Source:
Aso rock