Nine vehicles along the Military Cementary on the Airport Road, Abuja were involved in a multiple road accidents which was caused by a tipper driver whose vehicle apparently experienced break failure, NAN reports.
"I think the tipper failed break and the driver could not control it again,'' Alhaji Ahmed Rufai, who was with the driver when the accident occurred, said.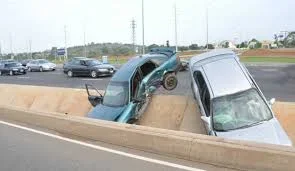 Rufai said the driver of the tipper with registration number, YAB 925 YT, took to his legs on seeing the impact of the accident.
A police officer, Sgt. Musa Abdulmumini from the Kuje Division of the FCT Police Command who spoke with NAN, said no life was lost. He, however, added that Rufai would be kept in Police custody until he produced the run-away tipper driver, whom he gave his name simply as Idris.
According to the Police officer, Rufai may be the driver of the tipper but may not want to own up, for fear of being lynched. He said that though no life was lost, the level of destruction on the vehicles involved was much. "As it is, everybody has to go and fix his vehicle while we keep Rufai in our custody until the tipper driver is produced, if he is not the driver. "The driver would certainly be charged for reckless driving when he is apprehended,'' he said.
PLACE YOUR ADVERT HERE
Connect with people interested in education, social, crime and health News!
[3645]