✅ NEW - car park, swimming pool, 24 hours light/security and more.
The Catholic Bishops' Conference of Nigeria (CBCN) says President Muhammadu Buhari has not kept to his commitment to "national integration and cohesion" promised Nigerians in his inaugural speech on May 29, 2015.
This was contained in a communique issued by Ignatius Ayau Kaigama, president of the CBCN, at the end of a meeting in Taraba state.
The bishops said the inability of the federal government to address the inequitable situation in the country has resulted in a breeding ground for violent reactions, protests, and agitations.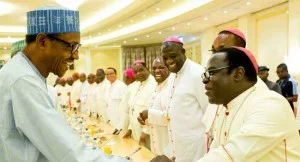 "We call on government at all levels to urgently address these anomalies, remove everything that smacks of injustice, and give everybody and every part of our country a sense of belonging.
"We insist that merit and ability should be the primary criteria in making appointments and genuine needs the criteria for the distribution of amenities. We also urge the government to be always sensitive to the multi-religious and multi-ethnic configuration of the nation."
The bishops expressed concern that the deployment of soldiers could increase "the nervousness among the populace with the potential of igniting a fire that could turn into an uncontrollable conflagration".