Based on true events.
Adedamola is what you call a drama king; not like he has a crown for it, it's just you can spot him in the dark because he is always talking. He is the kind to wake up by 8 when work starts at 9; "I'll just nap another 30 minutes" he convinces himself. This morning, he logged on to twitter with one hand and typed "Don't get me wrong, but I think the mosquitoes in Ajah increased with the fuel price" while he brushed his teeth lazily with the other.
As a tax accountant, he is the '
I cannot come and kill myself
' kind of employee and it worked for him. There were those days when he typed his excuse for coming late to work as an SMS the day before… "Sir, I will be coming in late today, my Gas finished, I couldn't heat water for bath" thank God for backspace. He has marked out all the public holidays that he wished Nigeria celebrated July 4th. Some mornings, he would insult the rain for not falling or even pray that he fell sick. Soon, his SMS would read "Sir, I can't come to work today, not because of anything, it's just who I am Sir"
Lazily, he got on a
Danfo
. The driver hadn't even shifted gears when the conductor screamed in his face "
Owo da
?" Ade knew he shouldn't have sat next to the conductor; the smell that hit his face, Lazarus definitely died in the conductor's mouth.
"
Shey person go reach somewhere before you dey shout owo da, abeg how much to Lekki
?" Adedamola retorted as he reached for his wallet.
"
Lekki na 200, shey Imam na stranger for mosque abi you no know say fuel don hincrease?
" his H factor creeping up on him.
"
200 bawo, you go carry me go sell be that na, oya take 500, give me change
"
That was when the phone rang and his heart rate doubled… "shey because of 30k wey Emeka borrow me, e wan dey call me pass 180" he looked at his screen, his frown diffusing into a smile; it was his mum.
"
Ahh! Ekaaro o, Iya Adedamola, this august call mummy, wetin happen
" They both laughed.
"
Jo fun mi ni 10k ni be yen
" she replied
"
Mummy se e fi owo si mi lapo ni, you keep money for my pocket?
" he laughed while slurring his words.
"
Ade, shey you cannot give your mother common 10000 Naira and you will be forming big boy, you think Seyi doesn't show me your hinstagram?
" in that moment, Ade hated his younger brother Seyi.
"Okay mummy, I will send it" he replied.
"That's my Ade" she said, his face hanging like a sad museum wood carving.
He knew it would get to the point when she shortened his name to Ade; he was luckier today. The last time, she threw in the big guns of 9 months and breastfeeding.
Most times, he would just dial *322*8*Amount# to generate a Paycode but thanks to traffic, he tapped on the
Verve World App,
typed in 20000, a cash out PIN, generated a Verve Paycode and sent it to his mom; all the while flashing to Christmas as a kid when he would dress up in an oversized suit, plastic ninja glasses and fancy dummy wrist watches just to visit every house in the neighbourhood all in the name of "do Christmas for me". He always fell for giving his mother the money and when he demanded it back, her automated reply was "Damola, cough out all the food that you have been eating in this house" and the case was closed, no court needed"
His phone rang again, he figured "mummy must be calling to thank me"
"
omo yi o ko leko, this pikin, you don't have respect again ni, I asked for 10000 and you are sending me recharge card?"
she angrily said.
"Mummy, it's Verve Paycode, go to the ATM, type the code and it will give you the 10k" he was already sweating on his forehead.
"You want people to think I am robbing the ATM? Paycode ko, express road ni" She said, Mayowa wondered how she never ran out of these phrases, the last time he told her of Uber, her reply was "
Uber Ko, Tuber of Yam ni."
When she called again, she was all over with her emotions, something about Verve Paycode being like magic and how he is the best son ever. He could feel the chip on his shoulders become a mountain. He just shrugged "
I cannot come and kill myself.
"
To download the Verve World App,
CLICK HERE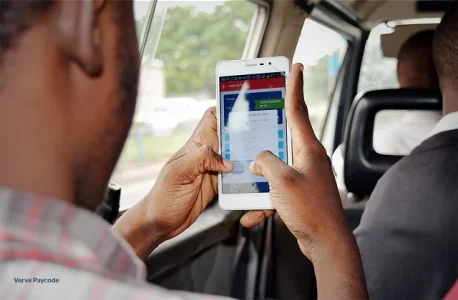 Last edited by a moderator:
[5043]