Aero Contractors Airlines, Nigeria's second largest commercial carrier, has announced that it is shutting down services beginning from Thursday (tomorrow) September 1, 2016, over Nigeria's current economic situation.
The airline management said this in a statement signed on Wednesday.
Aero stated that the suspension was part of the strategic business realignment to reposition the airline and return it to profitability.
It stated that this "business decision", which is a result of the current economic situation in the country, had forced some other airlines to suspend operations or pull out of Nigeria.
The management of the carrier said the airline had faced grave challenges in the past six months which impacted its business and by extension the scheduled services operations.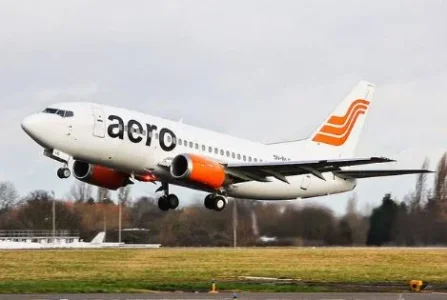 These factors, according to Aero, are both internal and external environmental factors that have made it difficult for it to continue its scheduled services.
As part of its resolve to ensure the airline survived unlike most other carriers that experienced short life span in the country, AMCON had appointed Mr. Adeniyi Adegbomire SAN as Receiver Manager in February 6, 2016, with the aim of turning the airline around.
Since AMCON's intervention in Aero Contractors in 2011, it had provided support for the airline to meet working capital requirements and fleet expansion.
Source: PUNCH
Last edited by a moderator: