✅ NEW - car park, swimming pool, 24 hours light/security and more.
African Studies students recently celebrated Black History Month in collaboration with the Institute of African Studies, University of Ibadan; Institute of French Research in Africa (IFRA), Centre for Black and African Arts and Civilization (CBAAC) and APKASS at the prestigious University of Ibadan, Nigeria.
The event, which was held at Draper's Hall of the Institute of African Studies, University of Ibadan featured film screening of "Malcolm X" by Spike Lee, cultural display, keynote speech, live music performance, discussion and intellectual debate.
The Host of the event and Director of the Institute of African Studies, Dr. O.I Pogoson, said he believes that starting a conversation about race and black history at this period is an important way to combat racism and also learn about the success so far.
"Black History Month is the time of the year we take time to acknowledge our rich history and gain an appreciation of the breadth and depth of contributions made by Black heroes to society as a whole", Pogoson said.
According to Dr. Senayon Olaoluwa, the keynote Speaker, many black women, especially the abolitionists, have been forgotten and unacknowledged for the active roles they played in bringing an end to slavery throughout the world while their male counterparts are always remembered and honoured.
"The patriarchal social system of the world at the time of the struggle against slavery contributed to the deliberate and conscious efforts made by the people to discredit the various strategies and efforts of made black women in resisting and fighting against slavery.
"We all owe a profound debt to the black women, those hidden figures who in important and deep ways helped to save the blacks from slavery", Olaoluwa said.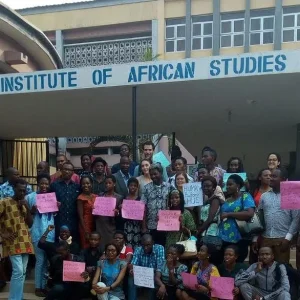 Ambassador Ayo Olukanni, who was also at the event, praised the African Studies Students' Association (ASSA) and the Staff Adviser of the body, Dr. Sola Olorunyomi for putting up the event.
In his remarks, the president of ASSA, Sam Adegbola said "Africa can rise again. We were at our peak before the Europeans came into Africa during the 15th century and took our people as slaves. It is not true that slaves were taking from Africa. Africans were taking away from the continent and turned to slaves".
The event was attended by students of the University of Ibadan, members of staff, labour union leaders, journalists, cultural ambassadors, diplomats, and heads of Nongovernmental organizations.