✅ NEW - get your business listed and your information shared across social media.
The Ekiti State Governor, Ayodele Fayose, has described the silence of President Mohammadu Buhari on the alleged killing of harmless Nigerians by Fulani herdsmen as a clear invitation to chaos.
The Governor was quoted saying; "wanton murder of over 300 Agatu people of Benue State and the silence of the Federal Government on this genocide is"is a clear invitation to chaos.
In a release issued on Sunday by his Special Assistant on Public Communications and New Media, Lere Olayinka, Governor Fayose, who expressed his sympathy with the victims and their families, added that the Federal Government must stop playing ostrich to the menace of the Fulani herdsmen.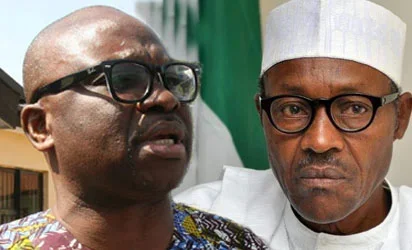 "If in the last one week, over 300 Nigerians were allegedly killed, several villages razed, with farmlands destroyed by Fulani herdsmen and President Buhari is comfortable junketing from one country to the other, something is definitely wrong somewhere.
"This is because in saner climes, no country will have over 300 of its citizens reportedly killed with thousands others displaced and the leader of such country will not rush home from wherever he is to take charge of the situation by himself," the governor said.
- PremiumTimes