Attorney General of the Federation and Minister of Justice, Mr. Abubakar Malami, has explained why he instituted legal proceedings against the Senate President, Bukola Saraki and his deputy, Ike Ekweremadu and two other in the Federal High Court.
The Minister explained that he, in fact acted in defence of the rule of law, justice and based on public interest.
The Minister told the Senate Committee on Judiciary, Human Rights and Legal Matters Wednesday at the Committees Hearing Room at the National Assembly that instituting criminal charges against the principal officers of the Senate for forgery of the Senate Standing Rules 2015 was constitutional and should therefore not be misconstrued as dabbling into what is purely thee domestic affairs of the Senate.
Malami while responding to questions by the Senators explained that his action was not only done in good faith but in the interest of the public, justice and to further strengthen the nation's nascent democracy.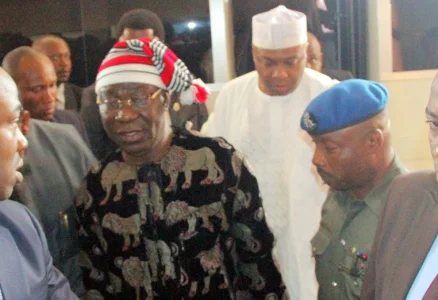 He said, "The criminal case my office instituted against the principal officers of the Senate and two other officers of the legislature was to sustain the rule of law, justice and public interest, not to truncate democracy''
According to him, there are two suits against the culprits; the civil case instituted by the serving senators themselves and the criminal aspect instituted by the Office of the Honourable Attorney General following from the outcome of police investigations on the matter'', stressing that his action was guided in his submission to court by the Senate Rule Chapter 8, Lines 3.
He also submitted that since he has made his submission to the court, it shall therefore be over reaching on his part to comment on it in this circumstance and so as not to be subjudiced.
[1212]