Nigerian Senate on Tuesday has summoned the Transport Minister, Rotimi Chibuike Amaechi over the exclusion of South-East from the beneficiaries of the $5.8bn loan request from China Exim Bank by the Federal Government for the construction of Standard Guage lines across the country.
The Federal Government is now requesting the loan which will be repaid by all regions of the country including the South-East to fund a standard guage lines running from Lagos-Kano, Kano-Kaduna, Lagos-Ibadan, and Lagos Calabar which is a deviation from the original plan that included the Eastern section that links the four zones of the South-South, South-East, North-Central and North-East and Key cities such as Port-Harcourt, Aba, Enugu, Makurdi, Lafia, Gudi, Jos, Bauchi and Maiduguri.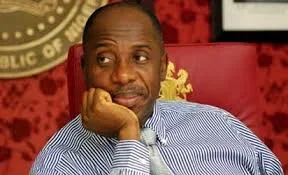 Senator Enyinnaya Abaribe, (PDP Abia South), in his motion urged the Senate to reject approving the loan until all regions were carried along in the utilisation of the loan.