Amina Ali was rescued on Tuesday night in Bale village at the edge of the Sambisa forest by a Chibok vigilante group which handed her over to the military.
Residents poured on to the streets as news spread that troops had brought one of the abducted girls to the village.
Some of those who saw the girl recognised her instantly and sent for her mother to come. On sighting each other mother and daughter ran into an emotional embrace.
She was 17 when she was abducted, now she is 19, "married" to a Boko Haram fighter and carrying his four-month old child.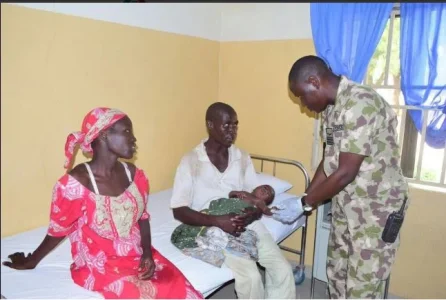 You Can Read: Rescued Chibok Girl, Sambisa Husband Flown To Meet Borno Governor [PHOTOS]
However, Dailytrust reports that a doctor from Chibok community, Idriss Danladi, who has been treating beleaguered parents of the abducted girls, said she is pregnant again.
You Can Read: Nigerian Army Cannot Penetrate Sambisa Forest – Rescued Chibok Girl