✅ NEW - car park, swimming pool, 24 hours light/security and more.
Amnesty International has accused the Nigerian military of taking measures to cover up its troops' massacre of Shiite Muslims in Zaria, Kaduna State last December.
In its latest report, the international human rights and advocacy organization gave a detailed account of the Nigerian military's massacre of Shiite Muslims in Zaria between December 12th and 14th, 2015.
Amnesty International provided evidence not only that the military used excessive force against civilians, killing more than 350 people, but that Nigerian troops went to great lengths to cover up these crimes.
In its damning report, Amnesty International seemed to lend credence to the account given by the Shiites. According to the human rights organization, "the Nigerian Army has provided no evidence to substantiate its claim that IMN protesters attempted to assassinate the Chief of Army Staff or shot at his convoy, or that the protesters' action warranted the degree of force used against them."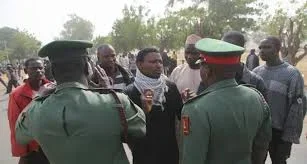 Lanre Olanrewaju, the chairperson of the Civil Society Network Against Corruption (CSNAC), told SaharaReporters, "If the military believed their actions to be lawful, then why should they go to such lengths to hide the dead bodies from the public and the families of the deceased? Their cover up shows the premeditation in their action to murder unarmed civilians."
Satellite images provided by Amnesty International show important Shiite religious sites or property belonging to the IMN leader, Sheikh Ibrahim Zakzaky, being demolished. According to the report, "after the incident, the military meticulously destroyed most of the evidence at the scenes of the clashes. Soldiers sealed the areas around Ibrahim al-Zakzaky's compound and around the Hussainiya in the afternoon of 12 December 2015 and for several days afterward."
- SaharaReporters