Anambra State governor, Chief Willie Obiano has raised alarm over the sudden withdrawal of his security details, saying such action has exposed his life to danger.
Obiano who stated this on Tuesday in Awka during an election stakeholders meeting organised by the Independent National Electoral Commission (INEC), described the act as unacceptable and a dangerous signal on what was to happen ahead of the governorship election.
He demanded for the immediate return of the security details in order not to constitute further threats capable of overheating the polity.
According to the governor, he had wanted to speak with the Inspector General of police who was scheduled to be at the occasion, but said he had to voice it out in the event since he was not aware when he would come.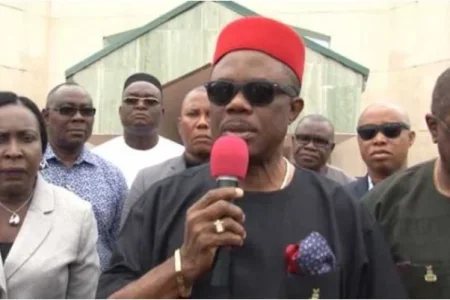 The governor had earlier complained of having not been accorded recognition by the moderator when he worked in, despite several insistence.
But reacting, the National Chairman of INEC, Prof. Mahmood Yakubu, said the event was a stakeholders' meeting, and as such no candidate would be accorded any special treatment regardless of his position.
He said the commission insists on equal treatment of all candidates in the election and should not only have equal standing, but must be respected.