'
I will be with you shortly,'
Anthonia Ufuoma Okoro said, as she motioned tardily into the sitting room of the apartment where her parents reside. Minutes later, she emerged with chairs from the 2 bedroom apartment which looks empty due to the time of the day. Everybody had gone to work except, Anthonia, a visually-impaired graduate of English language in a Nigerian University who is also the Author of
"Entrails Of My Being". I
n this interview with Nigerian Bulletin, Anthonia shares her life's journey, challenges, career, and the worst moments with Nigerian Bulletin
.
She is our
Feature on Weekend Spotlight.
-----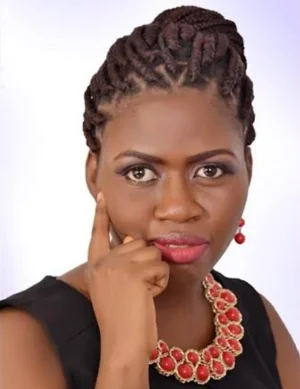 Anthonia Okoro had been told by many doctors that there is no solution to her visual problems and the only one of them who saw a way out gave an impossible hope.
Despite this hopelessness, Tonia as she is fondly called went ahead to complete her education. Having graduated with a second class lower degree in the university, the Delta state indigene tried her hands on what she learnt in school, in March 2016, she launched an anthology of poems titled
"Entrails Of My Being"
Not even her condition had been able to rob Anthonia of her grace and radiance. She walked and talked with the confidence rare in the world of ableness. Her priority is how to make success as a broadcaster and impact on lives.
How Her Visually-Impaired Journey Started
Tonia's ordeal started when she was in Primary school at the age of 6. Before then, her sight was normal. She began to notice signs of dimness and cloudiness during the day. Since then the condition has been deteriorating.
"
The problem started when I was 6 years old. We went to the hospital and they said I have short sightedness, they prescribed some drugs and gave me lenses. None of it worked so I had to go back to the hospital they said they don't know what else to do so we decided to approach other hospitals for help but it all remain the same. In one of the hospitals, they said its retina patinogenitis, they gave me drugs as the other hospitals but it did not work just like others."
"
As the depreciation continues, it came with other defects such as colour blindness. As a result of this, the sight works just as the day works. During the day, when the sun is very bright and the cloud is clear I see close objects faintly but once the weather is dull or the night falls , I become totally blind and that's how it will remain till the next day."
As the condition continued to deteriorate, Tonia and family made more effort at getting a solution; on advice from friends, she was taken to many spiritual homes but all turned out no yield. The solution came in 2014 when a doctor told her that the eye defect could be corrected through a retina transplant but Tonia declined the offer.
Anthonia continued:
"The doctor told me that the I can see again if I undergo surgery. He said he the surgery involves removing the retina of somone who is about to die transplanted in mine. He said the process have to be quick as the retina cannot live for long. He also told me the risks. He said it could lead to a total loss of sight if the retina didn't work in mine. I decided not to go for it because I wasn't sure about it and I don't want to go totally blind."
Anthonia's Challenges:
Though not a journey of ease for Tonia, she defied all the challenges to climb up the educational ladder, far to attaining a degree with a second class upper in Obafemi Awolowo University. It was a tough journey she disclosed.
According to her,
"My major challenge while in school is about getting these textbooks, putting them into brailles so that I could learn. Many Nigerian universities don't have educational materials for the disabled. My friends took it upon themselves to check online if some of the textbooks were online so they could download and I'll listen via my software. If we didn't get it online, they would have to study then read it out to me many times so that I would understand."

Anthonia's Helper:
Tonia's best friend on campus was
Fajana Olabisi
, a classmate of hers who helped her in academics and personal life while on campus. Olabisi said the 'caring and kind Tonia' is one of the most amazing she has ever met.
"
I met her in 2012 during our second year in school. Her first challenge was about how to read and write so I had to take her to all our lecturers to make them aware of her condition. For the reading aspect, I made sure I study as much as I could then read it to her hearing and sometimes, when there is a mix up about her script, I use to go to the lecturers to sort things out.
"
Apart from academics, she doesn't know anywhere on campus due to her sight so I have to take her to classes, I have to take her to banks and any other places."
In the 3 years they lived together, Olabisi learnt so many things from her friend as she was amazed by her passion and courage at doing what able bodied wont dare.
In school, Tonia writes her examinations which typewriter, a device she mastered using at the Pacelli School for the Blind and Partially-sighted, Surulere, Lagos. Despite the good rapour with her lecturers, Tonia still had to pay some prizes in school.
"
There were some cases where lecturers will call for impromptu test and I won't be able to do it because I cannot be carrying typewriter to all the classes. Some will allow me to come and do it immediately in their office and at times, I loose the mark totally if they didn't agree.
"
And for OAU, it's a peculiar challenge; the environment and system is not friendly to the disabled. My friends take me to classes, most of the time I have to wait for them, if my friends are not going,that means I wont got for that particular class.
Anthonia's Book; "Entrails Of My Being"
Tonia is now through with studying but she is not yet ready to go for national service. She has the intention of learning more by enrolling in professional courses. She remains undaunted in her journey through life. Few months after graduating in school, Tonia's dream of impacting on people's life came to reality as she launched her first ever book; an anthology titled
'Entrails Of My Being.'
"It's a tool for me to inspire people. Since I have been writing and presenting poems in churches and people got inspired through it, I felt that since few people could be inspired, it means I could write it and bless many lives. That was what propelled me.
"Some of the poems in the book carries my personal story. I want people to know that they can bring out the best out of whatever they are going through. Be it financial, educational, spiritual, emotional, the book covers all."
The Worst Day In Anthonia's Life
Just like it is for the able-bodied, life in a way has been unfair to Tonia, she related the worst days of her life; first, in 2007 when she was denied admission into Caritas University due to her disability after passing all exams and a second experience she will never forget.
"The second is emotional, last year September to be precise. I fell out of love and it was very painful. The guy was ok with me but the family said no. They said they don't see how I will be able to cope with their son or how their son will cope with me. So they did everything they could to make sure that relationship end last year. It was my first and only relationship."
Despite the heartbreak, she believe that 'the right guy who will definitely see beyond the challenge will come at the right time.'
"
Entrails Of My Being"
according to Tonia has given enough courage and impetus to move on with life and career. she felt a greater need to keep encouraging people through her writings and to that extent, she has started working on the volume two of the book.
Anthonia's Future Career:
For career, Tonia aims to be a broadcaster and owner of a foundation where she can explore her creativity and role model status to counsel people on how to move on with life. Her words for other disabled is that they should always see an ability in disability.
"There is an ability in that disability that they are yet to discover, so they should get out of the nursing bed and shrug off whatever is covering them up to bring out the best in them. They should try and dissolve fear and they will see that they will definitely make it."
Last edited by a moderator:
[1588]