John Odigie-Oyegun, National Chairman of the All Progressives Congress, APC has blamed the Peoples Democratic Party (PDP) of being behind the anti-Igbo song in circulation in the North.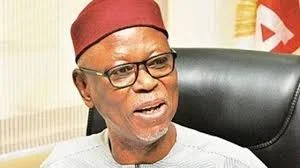 He said, "The rising wave of hate speeches, negative religious and ethnic utterances and actions as is currently being experienced, is part of the fallouts of the 2015 presidential election.
"Anyone participating in an election knows that there could only be two outcomes, you win or you lose. When you lose, you prepare for the next election.
"What we have seen however is that since 2015, some politicians and political groups have carried on as if they wished the country itself to collapse just because they are no longer in power. This is tragic indeed", he said.
[1317]