✅ NEW - get your business listed and your information shared across social media.
Chief John Odigie-Oyegun, National Chairman of the All Progressives Congress, APC has explained why he wants President Muhammadu Buhari to seek re-election.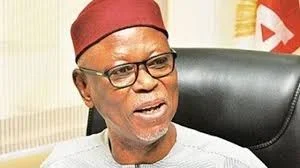 Speaking with VANGUARD, the APC Chief said, ''I said so because the main gift President Buhari is giving to this country is what he represents and that is his absolute integrity. What Nigerians should aspire to be, the kind of country that we want Nigeria to be, a country where a man's yes is his yes. A country with leadership that treats with respect public resources, a nation that is disciplined; a nation that is not wallowing in indecent corruption that we have today that is making one ashamed, that is what Buhari represents.
''He is like a General leading a charge against the major ills of this country. The job is so enormous that one term cannot do it. The job is so enormous that two terms cannot do it. Even after President Buhari's tenure, we still need people like him to continue in office. So, my prayer is that God gives him robust good health and once he enjoys that, of course as an individual, I will work that he comes back for another term. But those things are in the hands of God because we are not God and we cannot play God.
''I am only saying that because of the enormity of the task that we are facing. When we talk of change, a lot of people talk about physical change. The main one is the change in the mentality and ethics of Nigerians, especially the attitude of Nigerians to right and wrong. So, the task is enormous and we need continuity in principled leadership which President Buhari represents.