✅ NEW - get your business listed and your information shared across social media.
Apostle Johnson Suleman, President/ Founder of Omega Fire Ministry (OFM), has filed a one billion naira lawsuit for libel against, 23-year old Canada-based Nigerian stripper, Ms. Stephanie Otobo and an online medium for defaming his character.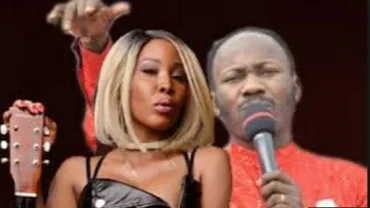 This is coming weeks after the police arrested Ms. Otobo on allegations of blackmail, threat to life, conspiracy, and intent to steal from the Apostle. Instituting a lawsuit against Otobo and the online medium.
Apostle Suleman's lawyer, Osa Director said the cleric is suing both defendants for the libelous statements made and published against him.
The case with suit no: ID/ADR/374/2017 was filed at the Ikeja High Court in Lagos.
Apart from the 1bn damages against each parties, Apostle Suleman is also seeking "an interlocutory injunction restraining the Defendants, their agents, servants, privies, representatives or any person, whosoever, acting or carrying out their individual and/or collective instructions from further publishing or causing to be published any defamatory publication touching on or relating to the person of the Claimant and the subject matter until after the determination of the substantive suit".
According to his counsel, "Suleman decided to institute the action and put blackmailers out of business. Many Nigerians under similar circumstance will just allow the matter to slide into the inner recess of our memory, either due to ignorance, lack of resources or impatience with the judicial process".
"But, Apostle Suleman is a dogged fighter and principled man of God who does not take kindly to anything that will tarnish his image. Therefore, he is ready to pursue the matter until justice is done".
"To signpost his determination to get justice, apart from Director, he has lined up four other lawyers, led by a Senior Advocate of Nigeria, Chief Efe Akpofure, to prosecute the matter. The other lawyers in the team are Emmanuel Usoh, Victor Idiapho and Erhabor"
Source: Vanguard