The Special Investigative Panel on arms procurement have restricted accounts of two former Chiefs of Army Staff and 14 serving officers of the army in its investigation of arms contracts for the military, The Nation reveals.
This comes just 24 hours after President Muhammadu Buhari mandated the Economic and Financial Crimes Commission (EFCC) to establish the scope of the culpability of the immediate past Chief of Defence Staff (CDS), Air Chief Marshal Alex Badeh; former Chief of Air Staff, Air Marshal Mohammed Umar (2010 -2012) and the immediate past Chief of Air Staff, Air Marshal Adesola Amosu, in alleged fraudulent arms purchases for the Air Force between 2007 and 2015.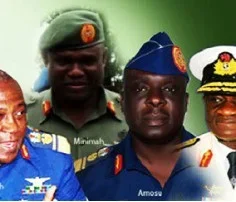 Also lined up for investigation by the anti-graft agency are 14 other retired and serving military officers and 21 firms said to have been awarded the contracts.
There were indications last night that the appropriate government agencies might have placed restriction on the accounts of Badeh and the others being probed along with him.
-
The Nation