Weeks ago, the President had presented N8.61 trillion appropriation bill - Nigeria's biggest budget, surpassing the N7.44 trillion 2017 budget.
Its aggregate expenditure comprises recurrent costs of N3.494 trillion; debt service of N2.014 trillion; statutory transfers of N456 billion; sinking fund of N220 billion; and capital expenditure of N.428 trillion.
According to TheCable, the analysis of the Aso Rock budget shows the following details:
Travels and transportation
N182.3 million was budgeted as travelling expenses for state house personnel. While N89.2 million goes to local travels and transport, N93.1 million goes to international travels.
For the president, N1 billion was allocated for both his local and international travels while Vice-President Yemi Osinbajo also gets N300 million for same.
Electricity charges
A total of N274.8 million was set aside for electricity charges in the budget.
And this does not include generator fuel which got N45.7 million while maintenance of such generators got N5.3 million.
Telephone charges
A total of N23.8 million goes down in the proposed budget as charges for telephone calls at the state house.
Internet access charges
N67.1 million.
Water and sewerage rates
N111.1 million was allocated for both.
Supplies
N26.4 million for newspapers, N79 million was budgeted for office stationery/computer consumables, N8.6 million for books, N3.5 million for magazines and periodicals, N69.3 million for printing of documents, N11.8 million for uniforms and other clothing and N36.8 million for drugs and medical supplies. This is aside the N51.8 million budgeted for medical expenses.
For
Osinbajo's office
N6.4 million is allocated to stationery and computer consumables
N4.6 million for printing of non-security documents
Foodstuff
N145 million naira for food stuff/catering materials supplies
The president and vice-president, both of whom are getting N98 million and N51 million respectively for supply of such foodstuff and catering materials.
vice-president's office.
N17 million for kitchen equipment and cutlery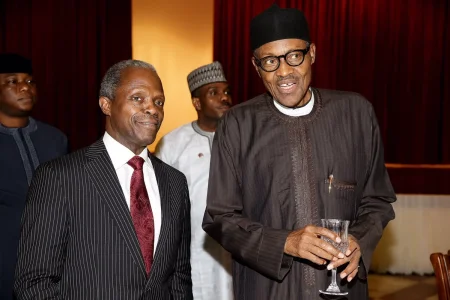 Maintenance services
Maintenance of motor vehicles/transport equipment got N165 million
office furniture got N9.7 million;
office building and residential quarters, N119.9 million;
office/IT equipment, N24.3 million
"other maintenance services" got N92 million.
Training
local training at the state house was allocated N57 million.
Aso rock rent "residential rent" - N74m
Consulting
While N33.3 million was budgeted for financial consulting, legal services got N8.2 million.
Fuel
To fuel cars at the state house, a total of N68 million is expected to go down while "cooking gas/fuel" would cost N19 million.
Refreshment
N136 million
The president
N26 million for refreshment and meals
while the vice-president gets N18 million for same.
Source: TheCable
PLACE YOUR ADVERT HERE
Connect with Politics News Readers!
[2049]