At the age of 7, when Ayowale Fatoki started helping out his mum with cooking in the kitchen, he never thought it would be a venture that will later put food on his table. The only male child who grew up in the hands of teachers, quit banking job one month after appointment to be a road-side akara (bean cake) seller. He shares how he dusted the shame to do what he enjoys the most on Nigerian Bulletin's Spotlight.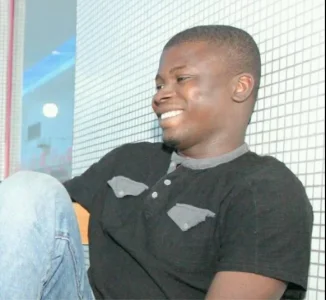 -----
Ayowale Fatoki
is my name. I had my primary and secondary school in Ibadan. Grew up in the family of 5 children – 4 girls, and I am the only male child. My parents are civil servants – teachers. I grew up in the hands of teachers. In 2006, I went to Abeokuta for my University Education at the Federal University of Agriculture, where I studied Mathematics. Thereafter, I served in Dutse, Jigawa state and finished in 2012. Then I returned to Ibadan.
2.
What led you into Akara business?
And what inspires you?
I had always loved to cook right from when I was very young – those days when as kids, when we want to be in the kitchen to try out all sort of things. I started cooking at a very young age, as early as 7, 8 , I was in the kitchen cooking for the house. But I never knew I would have a commercial use for it. I thought it was just a skill by the way. Then, 2012-2013, I was just trying out new stuffs and different things. I actually wasn't going to pick a job. But then, I had some big ideas that needed huge cash. Basically, in the area of branding and clothing. So I opted for a job and got a job in a financial organisation, in August 2o13. I worked for a month, and I resigned because I wasn't feeling the job. I had no idea of what I would do after the resignation, but while I was at home, the idea of food, akara started coming to mind. Then, I said I am going to give it a shot, since it's what I love doing – it's food, no problem. No big deal. The passion and love for cooking has really been the drive. It is what I can wake up to do at any given time.
3. When did you start?
I started in October 31, 2013.
4. How did you start?
When I decided to do it, I was going to do it in a different style. No smoke. I was going to use gas, different packaging, and all sorts. So with N20, 000, I bought a burner, gas cylinder, and a few other things like bowls, etc. I got a pot from my mum. A senior friend gave me umbrella. I started off that way. I started on a Thursday evening. I leveraged on relationships so much – my sister, my youngest sibling was on mid-term break, so I pleaded with her to join me. When I look at the first set of akara I made, they were like the home-type, very thick, but I learnt on the job, and improved.
5. And how much did you start with?
I started with N20, 000.
6. Do you have a name for the business? Why Akara?
Why not any other thing? The name is 'Akara Ayo' (translated to mean a Joyful Beancake). I actually wanted to start with Moin-Moin but the place I wanted to use, they run a monopoly system whereby two people cannot do the same thing. Someone was selling moin-moin already, so I decide to do akara. Started with that, and was getting to master it. I added other things to it like Fried yam, plantain, fish, chicken, fish, and other things. And that's how it has been.
7. What is your friends, family members' disposition towards the business?
When I was going to start, I told my parents and why I resigned my job. I told them I am starting akara business. They were like: is it that bad? Why don't they get a loan for me and push it into some things and all sorts. I told them I already made up my mind. They just left me, and said: 'well, okay, it is your life, go do it.' They gave me little support, but they had their scepticism.
As for friends: Some friends stood with me, some were shocked. Some would even pass by my stand under the umbrella by the road side, and ignore me. I would sometimes call some of them that and say 'Hi, Hello, What's up?' I didn't mind. It was what I wanted to do. Their action didn't get into me because nobody forced me into it.
8. Are there times of the day you don't trade?
Or do you trade all day? For now, we trade Mondays to Saturdays, from 5pm – 9pm.
9. Challenges in running the business?
At a time that I was really pushing so hard to make the business big, but we had to relax because of financial constraints. The little we make, we pour it into the business, but we thank God, it's growing bit by bit. And then, the kind of facilities we use right now does not protect against harsh weather conditions, especially rain. We still keep running. We didn't start with a mobile shop. It was later on when the threat of rain., and when we could save up some amount of money to build the mobile shop.
1
0. How many people work with you?
I have 3 young men working with me right now.
11. What's (are) your aspirations for the Akara Business? What becomes of your degree?
For the business, I have come to discover that it's just a foundation for me into food business. At the moment, I make soups for people and do delivery. I also cook for events, and cater for events. The akara business is also running. So, we have everything running and growing together.
All I want to do is just food and food. Right now, I am doing an Advanced training /Professional Chef training at Culinary Academy in Ikoyi, Lagos. I am training to be a Professional Chef and get a global standard and exposure to be able to do so much, and grow my business along that line.
12. Your advice for young Nigerians?
My advice for young Nigerians is that there is something you have that you can go with. Start from where you are and with what you have. Everyone has something – you just have to discover it. The Nigeria we have today is not funny. These are the days of massive shake-up and lay-offs but when you get to start your thing, and it will grow in your hand. I don't know of an establishment that can promise you double or triple of what you started with within in a year but your business can give me much more. But some businesses doesn't bring it like that, immediately, when you start, but one thing is certain: if you stay on it, focused an on top of your game, it's going to work. It's going to make sense at the end. And you'll glad you took that decision. I wish every young folk out there the very best as they set out to do the unusual. Look within, there's something you have that you can start with.
[5920]