✅ NEW - car park, swimming pool, 24 hours light/security and more.
The family of Ronke's Shonde who was allegedly killed by husband Kayode have released to PUNCH Whatsapp messages which confirms the alleged killer's infidelity and assault on the deceased.
The conversation was between Lekan and one of Ronke's friends, Ashabi.
In the chat, he asked Ashabi to beg Ronke on his behalf, promising not to assault her again.
He also claimed that the child brought to his home was a setup, denying the paternity of the baby.
Ashabi, in one of the chats, said Ronke was already slipping into depression, urging Lekan to become a better husband and father.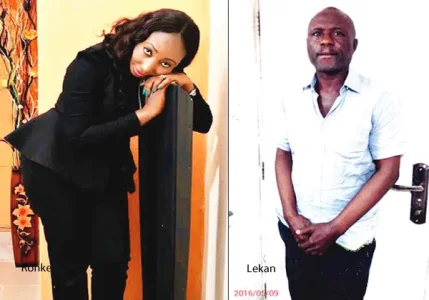 She said Ronke wept while talking with her because of the constant battery and public embarrassment.
Below are excerpts of some of the chats:
Lekan: Am sick and tired. Am going crazy. Please help me out. I rest my case. Am crying as I am writing this to you. But help me to talk to her. Aburo mi (my younger sister), I don't want to lose her. I want her in my house forever.
Lekan: Because of God, please help me. Ha, I have really offended her. May God forgive me. Please you are my saviour, help me talk to her.
Lekan: I can have plenty of sex outside, but I don't want to fornicate again. Yes, just want my wife back. I swear to God, I will never touch her again.
Ronke's friend: She is really broken and hurt, uncle. She said a lot. But I begged her and you have to keep showing her you are a better person, and you want your family back. It is not a day's job uncle and you have to be patient with her and get her to trust and love you again. She is falling into depression which is more terrible.
Source: Punch