✅ NEW - car park, swimming pool, 24 hours light/security and more.
Timipre Sylva is the Bayelsa state governorship candidate of the All Progressives Congress (APC). Having ruled the state before as a governor, Silva is at the verge again to contest the mantle of leadership with his keen opponent from the PDP, Seriake Dickson, who is also the incument governor of the state.
1. Sylva was born in Brass, Bayelsa (formerly Rivers State, of which Bayelsa State was split off from in 1996), and was educated there and in Lagos, the former capital of Nigeria. He was a member of the Rivers State House of Assembly in the 1990s
2. As a candidate of the People's Democratic Party Sylva won the Bayelsan gubernatorial election on May 29, 2007 and succeeded Goodluck Jonathan who went on to the position of Vice President. During his inauguration he said that Bayelsa was "the least developed industrially and commercially" of all 36 states.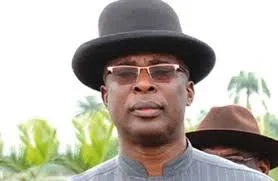 3. Sylva's opponent in the 2007 election, Ebitimi Amgbare of the Action Congress, legally challenged his victory. Although the Bayelsa State Election Petitions Tribunal upheld Sylva's election, Amgbare took the matter to the Appeal Court in Port Harcourt which overturned the Tribunal's decision and nullified Sylva's election on April 15, 2008. The Appeal Court's five justices were unanimous in their decision and ordered that Speaker Werinipre Seibarugo be sworn in to replace Sylva as acting Governor, with a new election to be held within three months
4. A new election was held on May 24, 2008, and Sylva, again running as the PDP candidate, was overwhelmingly elected with 588,204 out of about 598,000 votes.[5] He was sworn in again on May 27, saying on this occasion that he would form a broadly inclusive unity government.
Bayelsa Decides: 9 Facts Nigerians Should Know About PDP Candidate, Seriake Dickson
5. On January 27, 2012, his tenure was teminated by the Supreme Court with an acting governor appointed to oversee the state until the election of February 2012.
6. In 2011, the PDP ruled him out from the contest to fly the party's governorship ticket in the re-scheduled gubernatorial elections. His disqualification from the contest followed the orders of the National Working Committee of the party.
7. The Economic and Financial Crimes Commission arrested Sylva in 2013, following his refusal to honour invitations to answer charges over allegations of fraud running into billions of Naira while he served as the governor of Bayelsa state. He was picked up at his Abuja home.
8. A Federal High Court in Abuja on Thursday, November 26, 2015 for the third time dismissed a case against him.
9. With a very close similar case to the late Abubakar Audu in the last Kogi poll, Silva will be contestingfor the seat of the Governor of Bayelsa for the third; the first as a Governor, with controveries of Tribunals and Supreme court in others.