Berger Alfred Emberga, Acting Publicity Secretary of the All Progressives Congress, APC in Benue State has defended Governor Samuel Ortom's decision to nominate Comrade Joe Shimaor as commissioner.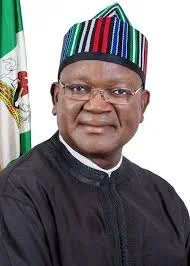 The defense was issued after social media activist, Solomon Samenka, asked why Ortom nominated a man who had no formal education beyond the Primary school level. In a Facebook post, Samenka wrote, "Ortom nominated a commissioner nominee from Kwande to replace the sacked Nick Wende. The man finished his primary school in 1972.
"He didn't see any secondary school to attend and write his SSCE, so he decided to wait until 2005 to write GCE as a private candidate after almost 30 years. Is ok. Is ok, God is watching. I also read that he did a certificate in library science in 2001, and another diploma in 2005 so I'm confused now.
"Did he actually run the certificate course and diploma before coming to write the private GCE?
"Or was the person who wrote the cv mixing up the years since nothing like that actually happened?. His excellency, you can decide to collect local government allocations or Paris club and give to your friends and nothing will happen but something will happen if you decide to carry responsibility and give to unqualified persons.
''How can you leave primary school in 1972 and do diploma before writing GCE at home in 2005?
"What did you use in applying for your diploma?
"His Excellency, sir, the manager of your company ORACLE has a master's degree " why do you bring a primary school certificate holder with backdated and post dated diplomas to be a member of your kitchen cabinet?
''Appoint him as MD of Oracle let's test his capacity since you so much believe in him. We say #no to post dated and backdated diploma commissioner nominees..we want you to know that we Warned you,'' Samenka wrote.
According to DAILY POST, in defense of the appointment, APC Spokesperson Emberga, said, "There is nothing wrong with the appointment, even Jesus Christ never attended any formal school but people called him 'teacher'."