✅ NEW - get your business listed and your information shared across social media.
Frustrated, a Benue state pensioner has committed suicide because of being poor.
Mr. Gabriel Nomsha, hanged himself a week ago because he couldn't afford to feed his family and pay his children's school fees according to Chairman of the Coalition of Local Government Pensioners,' Mike Vembe.
He explained that after the deceased had been screened, he came with the hope of collecting his pension but was disappointed when he wasn't paid.
At least 2,000 local pensioners from 23 local government areas of the state on Tuesday slept at the gate of the Government House in Makurdi to protest the non-payment of their pension to the tune of N1.1 billion.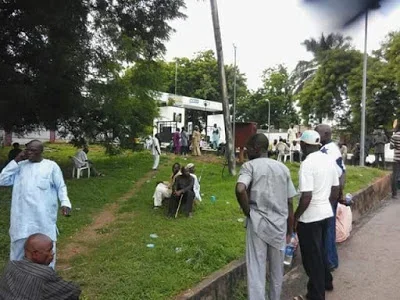 The pensioners arrived the government House in the afternoon but could not see the governor so they decided to pass the night at the gate of government house.
This is as the state governor Samuel Ortom and its prominent Senator David Mark, continue to engage each other in a war of words.
Read more: Governor Ortom Fires Back At David Mark Over Wheelbarrow Comment