Suspended FIFA President, Joseph Blatter, has accused the FA's Ethics Committee for not following through with due process before putting him on hold from all football activities for 90 days.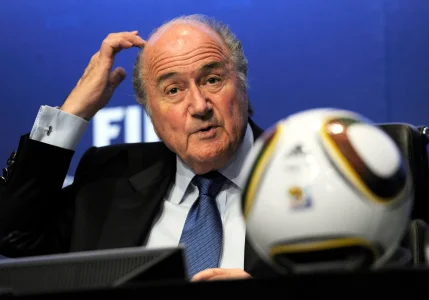 The Swiss, through his personal lawyer claimed the committee failed to allow him present evidence that will exonerate him from the charges before him.
"Blatter is disappointed the Ethics Committee did not follow the Code of Ethics and Disciplinary Code, both of which provide for an opportunity to be heard," Blatter's lawyers, Lorenz Erni and Richard Cullen, said in a written statement.
"The ethics committee based its decision on a misunderstanding of the actions of the Attorney General in Switzerland, which has opened an investigation but brought no charge against the president," the lawyers added.
They said Swiss prosecutors would be obliged by law to dismiss the case if their investigation, barely two weeks old, did not establish sufficient evidence.
"Blatter looks forward to the opportunity to present evidence that will demonstrate that he did not engage in any misconduct, criminal or otherwise,'' the statement added
The UEFA President, Michel Platini, and FIFA Secretary General, Jerome Valcke, were also handed same length of ban as they were told to stay away from all football matters with immediate effect.
Blatter, who has been under fire in recent months, has been president of FIFA since 1998 and has worked for the organization for 40 years, starting as a technical director before becoming secretary general under former President Joao Havelange in 1981.
Swiss prosecutors last month opened a criminal investigation into Blatter but the 79-year old has denied any wrongdoing.
The President of the Confederation of African Football, CAF, Issa Hayatou, is set to be named FIFA stand-in president.
The ban for Blatter can appealed against and can also be increased.
(dpa/NAN)
Last edited by a moderator:
[1312]