As Nigeria begins to gear up for general elections in February 2019, Bloomberg covered five powerful political broker who appear to be key players in the country:
Here are five power brokers to watch as Nigeria's election season starts early:
1.
President Muhammadu Buhari
- a 74-year-old former military ruler, will start as one of the favorites if he seeks re-election after becoming the first opposition candidate to win power in Nigeria's history in 2015.
To win again, he'll need to rebuild the coalition that formed the ruling All Progressives Congress and guaranteed him votes in his northern base and large parts of the southwest and center.
2.
Former Vice President Atiku Abubakar
- 71, effectively signaled he's considering another run for the presidency when he announced in November that he was leaving the ruling APC, accusing it of imposing a "draconian clampdown on all forms of democracy."
Abubakar has been a presidential aspirant in three different parties since Nigeria returned to democratic rule in 1999. He lost to Buhari in the APC primaries but supported him as the candidate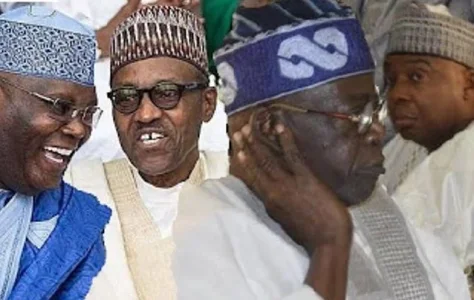 3.
Senate President Bukola Saraki
- 54, is Nigeria's third-most powerful person after Buhari and his deputy, Yemi Osinbajo. A U.K.-trained medical doctor from a renowned political family, his reputation as a ruthless strategist rose after his preferred candidate defeated his sister, who was backed by their father, Abubakar Olusola Saraki, in a state gubernatorial election in 2011.
Even if Saraki chooses not to, those seeking the presidency will likely need his support.
4.
Bola Ahmed Tinubu
- 65, is a former governor of the commercial hub of Lagos state who's widely seen as the man who made Buhari's election victory possible by delivering to him the bulk of votes from the southwest, home to one of the nation's three biggest ethnic groups, the Yoruba people. He may well determine if Buhari wins a new term. While he's believed to harbor presidential ambitions of his own, he's been more influential as a kingmaker.
5. V
ice President Yemi Osinbajo
- 60, is largely seen as a protege of Tinubu, under whom the former law professor served as attorney general of Lagos state. When Buhari and Tinubu decided that as two Muslims it would be impolitic for them to be on the same ticket, Osinbajo, a Christian, was tapped for the post.
Source:
Bloomberg Politics
[2154]