✅ NEW - car park, swimming pool, 24 hours light/security and more.
From #StreetJournal:
"There appears a ray of hope on possible but more effective collaboration between the Nigerian Defence Headquarters and its Cameroonian counterpart in the renewed fight against the dreaded Boko Haram insurgents.
The Street Journal reliably gathered that the Cameroon Army (Armee Camerounaise) today (September 24, 2014) sent an invitation to the Nigerian authorities requesting them to send a delegation of security experts to take part in the interrogation of some prominent members of the Boko Haram that were captured within the shores of Cameroon.
A top military brass in Abuja, yesterday confided in The Street Journal that four key leaders of the sect were captured in Kouseri in Cameroon during an offensive against the terrorist group on Tuesday (September 23, 2014). Our source disclosed that the Commander of Operations of the Boko Haram, Abakar Ali was amongst the four kingpins of the sect in custody of the Cameroonian authorities.
It was further gathered that Moustapha Umar, another key member of the sect was also arrested by the vigilant Cameroonian Army while Ali was captured along with Mohamat Ali and Issiaka Guere. Our source disclosed that huge cache of arms and ammunition was recovered from Mohamat's house during a house-to-house operation conducted by the Cameroonian Army aimed at flushing out the dispersed members of the sect."
Click here to read more
In a series of tweets, an investigative journalist named Bisong Etahoben reported a Cameroonian operation which led to the recovery of weapons from terrorists and the apprehension of Boko Haram leaders.
Read condensed tweets below:
@ChiefBisongEta1: Large quantity of arms found in Kodogo quarter, Kouseri in house of local Boko Haram chieftain Mahamat Ali. He was betrayed by collaborator.
Mahamat manipulated Abakar Ali as the real BH chief & that he only stored the arms. Mahamat, Abakar and one Isiaka arrested.
As Mahamat Ali was led away by security operatives, he boasted he is "worth more than 20 ministers of the Biya regime.
It would appear Abakar Ali who was arrested in Kouseri yesterday is actually Boko Haram's Operations Manager with other name Moustapha Umar.
Ali was arrested along with Mahamat Ali and Issiaka Guere and heavy arms found in Mahamat's house. (1/2)
(2/2) Arms included rocket propelled grenades, rocket launchers, bombs, mortars, rifles and ammunition.
Cameroon army has invited Nigeria to send Délégation to Cameroon to take part in interrogation of the 3 Boko Haram kingpins.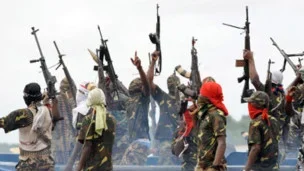 Last edited by a moderator: