The Nigerian Senate, on Wednesday, said crimes of mass murder across Nigerian communities were committed by "overpowered" Boko Haram insurgents, not Fulani herdsmen.
The Senate's resolutions yesterday followed a motion by Emmanuel Bwacha (PDP-Taraba State) on "the need to urgently flush out Boko Haram insurgents reassembling in Taraba State".
"The Senate is aware that that Nigerian Army has recorded tremendous success in the war against insurgents in the States of Borno, Yobe, and Adamawa, but there is a change of tactics by insurgents who now parade as herdsmen to make it difficult for the public to identify them," Mr. Bwacha said.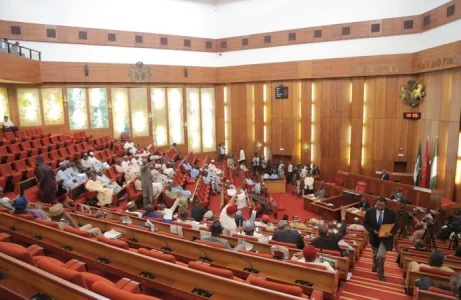 He said many communities in his Taraba South constituency had been deserted, following attacks by Boko Haram insurgents "masquerading as Fulani herdsmen".
Fulani herdsmen have been accused of mass murder and destruction of farms in different parts of Nigeria, with the latest being Agatu communities of Benue State.
Ado Boderi, speaking for Fulani community in Benue State, said recently that the Agatu people triggered crisis after killing 10,000 cattle belonging to the Fulani community.
Credit: Premium Times