Vice President #NamadiSambo on Wednesday summoned a meeting of all heads of Federal Government's communication agencies to enhance information flow on the rescue mission for missing #Chibok schoolgirls.
Presidential spokesman, #DoyinOkupe, told newsmen in #Abuja at the end of maiden meeting of the group that it was aimed at supporting the efforts of the military in the search for the abducted schoolgirls
Present at the meeting were Managing Director of the News Agency of Nigeria (NAN), Mr Ima Niboro and the NTA Director-General, Mr Sola Omole.
''The Vice President, Alhaji Namadi Sambo has actually summoned a meeting of all the heads of the communication agencies of the Federal Government in order to further improve and enhance the process of information dissemination both within and outside Nigeria. It is important that this is used to support the efforts of the military in the search for our missing girls in Chibok.''
He said the meeting which would be reconvened on Thursday, would be presided over by the Vice President with the Minister of Information, Mr Labaran Maku and other heads of relevant agencies in attendance.
In his contribution, the Senior Special Assistant to Vice President Namadi on Media and Publicity, Umar Sani, said the proposed Information Centers on the abducted girls were meant to provide accurate and prompt information to the public on the ongoing rescue mission.
''They (Information Centres) are going to be set up not because we want to sweep anything under the carpet but to give timely and accurate information to Nigerians and that sensitive state matter like security should not be mixed up with issues that have to do with politics.''
He explained that Nigeria welcomed the support and assistance of the United States, Britain and China on the ongoing efforts to rescue the kidnapped girls because fighting terrorism required global collaboration.
Also present at the meeting were Alhaji Ladan Salihu of FRCN and representative of the Director-General, Voice of Nigeria (VON), Alhaji Muhammed Danjuma.
Others at the meeting included President Goodluck Jonathan's Senior Special Assistant on Public Communication, Okupe and the Vice President Namadi Sambo's Senior Special Adviser on Media and Publicity, Malam Umar Sani.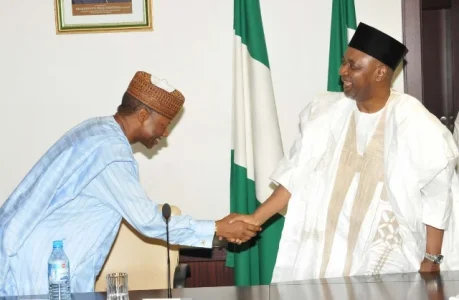 [1062]