The Head of Communications in the Nigeria Football Federation (NFF) Ademola Olajire says, the new policy of the President Mohammed Buhari regime is part of the reason why coach of the Nigeria U23s Samson Siasia has not been paid for five months.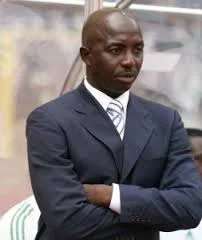 Siasia while announcing his resignation from his role as the coach of the Nigeria U23 said he is being owed five months salary by the NFF, which Olajire admits the body is owing the bronze medal winning coach.
However Olajire pointed out, that the delay was caused by the policy of the government, which mandates all cash inflow to public institutions to first go through the Treasury Single Account (TSA).
Olajire angered by the coach decision in making public the issue of none payment of his salary for five months, says the coach should also be gracious enough to reveal to the public once he is paid.
"The NFF admits owing Siasia, but I believe you must have read about certain money from Caf was earmarked to pay himself and assistants but it had to first go into TSA, because of new Government policy. He will get his five months salary (let me add that NFF Management are also being owed the same five months) but by then he will not be gracious enough to tell anybody that he has been paid.
"NFF has never meant evil for him. Of the 22 months he did in the job, he has been paid 17 months. He will get the balance soon, but will tell no one. The part people will hear and retain in their memory is that NFF is owing him."
[822]