President Muhammadu Buhari has boasted that he is still as popular as he was during the 2015 presidential election.
Buhari said this in an interview with the magazine, African Leadership.
President Buhari while reacting to the indications that his popularity has declined said: "I don't consider the result of the so-called survey a slip in my public rating and acceptance. I appreciate the high expectations of Nigerians and as an administration we are working assiduously to deliver".
"We came in with a mantra of Change and the zeal to give a new lease of life to governance. Our zeal has remained the same and we are always prepared to make the difference.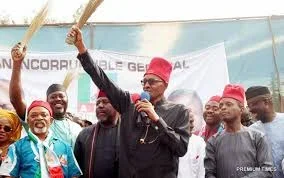 "You will recall that when I was being sworn in, I emphasized that as a government, three key areas will be the priorities. The first is the need to rebuild the economy. I also pledged to fight insecurity while the third and equally important area is the fight against corruption.
"Nigeria will soon be back on track. Before now, we have been having sleepless nights in Nigeria with Boko Haram having field days in tormenting people, most especially in the North-Eastern part of the country. So far, we have shown resilience in stopping these people and yet many criticize the approach we are using".
PLACE YOUR ADVERT HERE
Connect with Politics News Readers!
[3048]