✅ NEW - get your business listed and your information shared across social media.
President Muhammadu Buhari on Friday attended Juma'at prayer at the State Mosque in what confirmed his wife, Aisha's statement that the health of the President is not as bad as people take it.
The wife of the president, Aisha Buhari, had on Tuesday broke her silence on her husband's health, saying that it is not as bad as it has been perceived.
Mrs. Buhari, however, thanked Nigerians for their concern, adding that her husband has continued to carry out his responsibilities.
She said: "I thank all Nigerians for their concern, love and prayers over my husband's health status.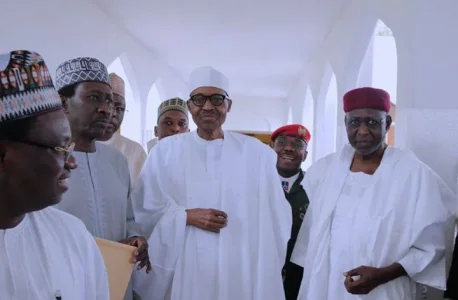 "I wish to inform everyone that his health is not as bad as it's being perceived. Meanwhile he continues to carry out his responsibilities during this period".
Buhari, who returned from the United Kingdom on March 10 after an extended medical vacation, has made only a few public appearances lately, fuelling speculation about his health.
He has missed three Federal executive Council meetings and many States' functions including the recent May day celebration.
Today's outing confirmed speculations on the status of the Mr. Buhari, though, many believed that the President only attended Friday's jumat and ignored official and office activities with which he has been appointed and sworn oath to uphold at all times.