✅ NEW - car park, swimming pool, 24 hours light/security and more.
The Nigerian Senate is accusing President Muhammadu Buhari's coordinator of the programme, Brig-Gen. Paul Boro (rtd) of spending N157.2million on armoured cars.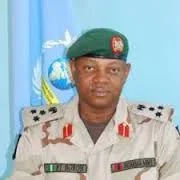 THIS DAY reports members of the Senate Committee on Niger Delta also claim that Boro has wasted N48billion since he resumed office in July, 2015.
The senators, who preferred not to be named, were particularly concerned over the huge sums of money purported to have been expended on the training of ex-militants between November and December last year.
"The president claims to be fighting corruption while his aides are already swimming in corruption. Can you imagine a Special Adviser using a bullet proof Lexus car worth N55 million as an official car at a time the president is trying to stop us from buying our own official cars worth about N5 million each? So what happened to the monetisation policy of the federal government?" queried an irate senator, who is a member of the Senate Committee on Niger Delta.
Click here to read more
SOURCE: THIS DAY