Some bush meat sellers in some major markets have said the business is booming again barely two years after the country was declared Ebola Virus Disease free.
Some of the bush meat sellers told the News Agency of Nigeria (NAN) in Lagos on Saturday that they were fully back to their business.
According to them, their customers, who deserted them because of fear of contracting Ebola, are back and they are experiencing more patronage.
Mr Aminu Badaru, a bush meat vendor at Ajegunle-Ikorodu Road, a popular road side market along Ikorodu axis known for bush meat business, said he had been experiencing high patronage.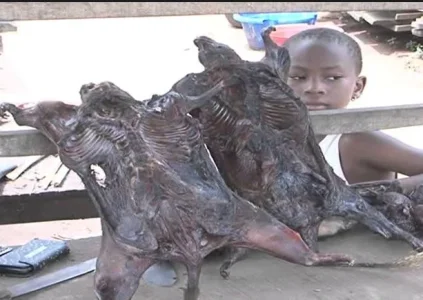 Badaru said he is now making more money compared to when there was EVD outbreak.
"I lost all my customers due to the warnings that people should desist from buying and eating bush meat as they were the major carriers of the disease.
"But now, I have started experiencing high patronage," Badaru said.
Another bush meat hawker, Mrs Aina Tairoye, also said that her market was booming since there were no cases of Ebola Disease.