The Archbishop Emeritus of the Catholic Archdiocese of Lagos, Cardinal Anthony Olubunmi Okogie, has blasted the RCCG general oveseer, Pastor Enoch Adeboye, saying that there is no Godliness in the decision by some churches in the country to have as many branches as possible.
The Cardinal, who was fielding questions from New Telegraph condemning such multiplicity of branches, describing such branches as "mere business centres," insisting that there is indeed no godliness in planting churches in close proximity.
Churches going after as many branches as possible, do so in an effort to bring the gospel of the Lord closer to the people, according to some of the Pastors.
Archbishop Emeritus said "For example, I heard that one of my colleagues, (Pastor Enoch) Adeboye, said that he would love to build churches everywhere so as to make it easy for worshipers to walk to them. But for me, that is a useless statement. How can you say you will build churches everywhere?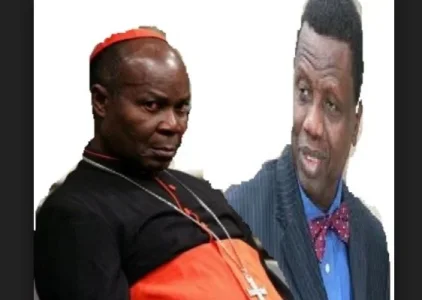 "What kind of churches are you talking about? "Look at traffic in Lagos for example, and those who are pastors are traders and a good number of them are business men. Such churches in most cases are more like business houses!
"Look at the number of churches springing up in Lagos. If the Muslims start building mosques like that, does it show that Nigeria is a religious country? Every day we hear of killings and other things that we were not hearing before.
"We can't even walk on the streets freely. You have to be watching yourself left, right and centre to know who the man coming behind you is. It wasn't like that before. Churches must ensure that there is fear of God.
"And I'm just telling you that those churches that he is talking about are just business centres.
They rented houses and in order to make more money, they license them. They pay their dues to the bosses in the churches, every one of them".
Read More
NEW TELEGRAPH
[8652]