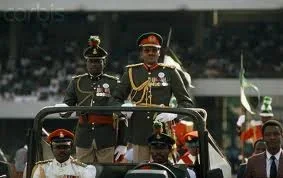 Sahara Reporters has published a letter of commendation by the United States Army War College in Pennsylvania praising General Buhari's 'intelligence and brilliance' during his time as a fellow in the military academy.
According to the letter (which, the paper says was gotten from a Nigerian military source), Buhari graduated from the College in 1980 on June 9.
The letter itself is dated 13 June 1980, addressed to General Alani Akinrinade, the Chief of Defense Staff at the time. In the letter, the Commandant of the War College, Major-General DeWitt C. Smith referred to Buhari as "a most distinguished International Fellow" who graduated with the Class of 1980.
As Sahara Reporters quotes, the letter gave profound commendations of Buhari for being "a man of extraordinary aptitude who demonstrated a broad knowledge of current international problems. His keen interest, sense of responsibility and solid grasp of the strategic implications of the important global issues marked him as a key member of any student seminar. Infact, he was at his best in the "give and take" environment of our seminar group discussions where students are encouraged to express their views even
Click here to read more
[6062]