The Deji of Akure, Oba Aladetoyinbo Aladelusi Odundun II, has condemned the sealing off of the Ondo State Chapter of the All Progressives Congress (APC) Secretariat in Akure with palm fronds.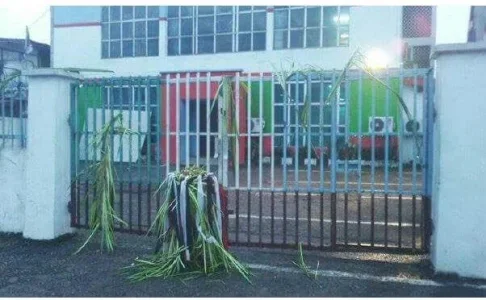 The entrance of the All Progressives Congress (APC) party secretariat in Akure, Ondo State was laced with assorted charms as stakeholders of the party were said to be in loggerheads.
The diabolic items were discovered on Sunday night and hasn't been removed as of the time of filing this report, blocking people – who believed they will be harmed by the charms – from accessing the secretariat.
The monarch, urged the party's executive and security operatives to investigate and expose those behind it.
See statement below:
"The palace condemns the attitude of some miscreants who went and sealed the entrance of the party secretariat with the traditional palm fronds which is the traditional means of sealing off premises in Akureland.
"We want to state that carrying out traditional sealing-off of premises remains the prerogative of the Palace.
"The Deji of Akure remains non-partisan and a father to all political aspirants and never authorized such.
"Oba Ogunlade frowns at this attitude and wishes to inform the general public that such act did not emanate from the palace.
"We call on the APC party executives to unravel the circumstances behind this abominable act. We equally call on security agencies to investigate and bring to book those behind the sacrilegious act so as to serve as deterrent to would-be persons."
Last edited: