✅ NEW - get your business listed and your information shared across social media.
Following claims that some Chibok girls refused to return home after the release was negotiated, leaders of the Chibok community has urged the Federal government to force them home.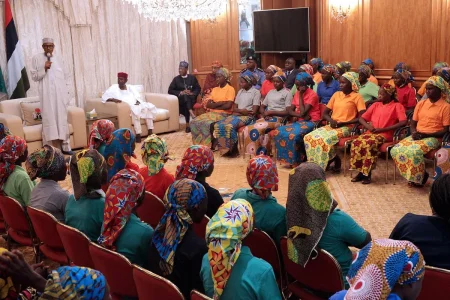 Chairman, Chibok community in Abuja, Mr Hosea Tsambido, told journalists the community would never accept such a claim because the government could use it as an excuse to give up on the rescue of the other girls.
His words: "The most disheartening and annoying thing is the statement credited to one of the negotiators who said some of the girls refused to come out. We don't want to hear that, even if the girls don't want to come out, it is not for him to advertise.
"The girls must come out, whether they like it or not; they should force them out, just as they were forced in, they should be forced out. As their mind was changed by Boko Haram, when they return to us, we will change their mind back."
Tsambido lamented that Parents were denied access to the girls.
"We have still not been contacted; parents have still not been contacted. All I was told is that some people from Chibok, two district heads and the former and present chairmen of the local government area, came to Abuja and were allowed access to the girls. Some community leaders from Abuja, who went with them, were barred from entering.''