The rescue of two of more than 200 Nigerian schoolgirls abducted by the Islamist group Boko Haram from a secondary school in Chibok in northeastern Nigeria two years has thrown global attention onto Amina Ali and Luka.
"She was completely changed. She had become very thin and awkward," Blamadu Lawan, the vice-principal of the Government Girls Secondary School in Chibok, northeast Nigeria, told the BBC.
Lawan, who said he identified her when she was brought back to her home town of Mbalala, near Chibok, after being found on Tuesday, remembered a "quiet and humble girl".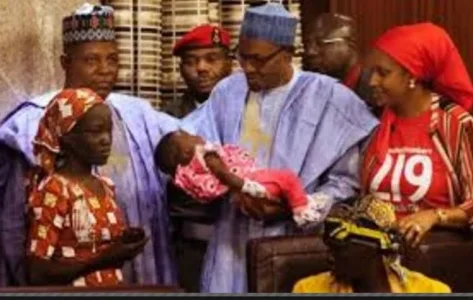 "She didn't used to say much and now she looks motherly," he told the broadcaster.
A female neighbour of the family described her as "a darling of the neighbourhood", quick to help with household chores and keep the family compound clean.
"She always wore a smile on her face and hardly quarrelled with any child in our area. This is why she kept many friends among the children of the neighbourhood," the neighbour told AFP.
- AFP