✅ NEW - get your business listed and your information shared across social media.
The founder of the House of God International Ministry, Pastor Chris Okotie has revealed that Prophet T.B Joshua is being controlled by "malevolent misanthropic spirit".
Pastor Okotie also blasted the Prophet over his plan to relocate from Nigeria.
Prophet T.B Joshua of the Synagogue Church of Nations had yesterday revealed plans to move away from Nigeria, his home country, to Israel.
The Synagogue has worshippers from all over the World coming to Lagos, Nigeria every worship day.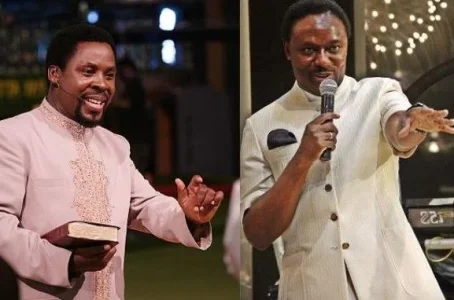 Okotie, who has long been an outspoken critic of Joshua, described the cleric as an attention-seeking "impostor", in a message he posted on his Facebook wall.
He revealed: "He is controlled by a malevolent misanthropic spirit," the pastor of Household of God International Ministries wrote on his official Facebook Profile under a news article he reposted detailing Joshua's alleged relocation."
"His hypocritical jeremiad should be ignored. He is just another frustrated shaman seeking public sympathy," Okotie said.