LTE (Long Term Evolution) stands for the 4th generation of telecommunications technology that delivers very high data speeds. With LTE, you can enjoy HD Video Streaming, Video and voice calls, superfast downloads, online gaming and so much more.
LTE offers faster download and upload speeds that will considerably improve your internet experience. With LTE you can stream music and video, upload and download faster. You can essentially use your mobile or tablet like a fixed line internet connection.
Globalcom
Ensure, your 4G LTE device network setting is on Auto Setting – 4G LTE /3G /2G or Get a LTE capable device or Smartphone
Dial *200# to buy any data plan of your choice
4G LTE 500 500 1.6GB 7 Days
4G LTE 1000 1,000 3.2GB 30 Days
4G LTE 2000* 2,000 7.5GB 30 Days
4G LTE 2500* 2,500 10GB 30 Days
4G LTE 3000** 3,000 12GB 30 Days
4G LTE 4000** 4,000 18GB 30 Days
4G LTE 5000** 5,000 24GB 30 Days
4G LTE 8000** 8,000 48GB 30 Days
4G LTE 15000** 15,000 60GB 30 Days
4G LTE 18000** 18,000 90GB 30 Days
Etisalat - Same as Normal Data
500MB 500 Smarta *229*2*11#
1.5 GB 1000 Smartb *229*2*22#
3.5GB 2000 Smartc *229*2*44#
6.5Gb 3,500 Smartd *229*2*33#
8GB 8,000 Smarte *229*2*55#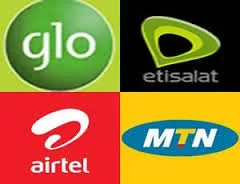 MTN - Same As Normal Data plan
* For 2GB: Send "SPB to 131" in a text message. It will cost you N2,000 and will last for a complete one month.
* 4.5 GB day & Night: 30days, cost N2,500, Text ''120 to 131'' in a message.
* 4.5GB: 1 Month, N2,500, To activate: Text '102 to 131'. (Shared for Night & Day. i.e, 2.5GB day time, the remaining 2GB for night hours; 9pm to 9am).
* 2,015MB (2GB), @N2,015, 30days. Text 'SPB to 131'.
Airtel -
Airtel Nigeria is yet to join the 4G LTE family.
NOTE:
Ensure you are in a 4G enable area or You can visit the nearest store of your service provider for either 4G sim or network coverage.
Last edited:
[8633]