Justice Okon Abang of the Federal High Court in Lagos, yesterday convicted and sentenced seven men to 84 years imprisonment for illegal and unlawful dealing in 1,459 metric tonnes of Premium Motor Spirit, popularly called petrol.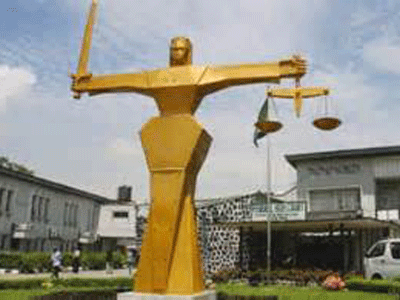 The convicts, namely: Adedamola Ogungbayi, Olaniran Olabode; Suraju Gasali; Moses Emmanuel; Wilson Bonsi; Okaraodi Uche and Onyeogo Happy are to spend the next 12 years each in prison.
Justice Abang also ordered that both the vessel, MT Good Success used by the convicts in stealing the said petroleum product, as well as the recovered petroleum product should be forfeited to the Federal Government.
The judge further directed that the sums of N66.6m and $975,000 belonging to the convicts' company, Hepa Global Energy Limited, domiciled with the First City Monument Bank should also be forfeited to the Federal government.
The court also ordered the prosecution to file an affidavit of compliance with the order within 21 days of the judgment.
The seven convicts, their vessel and company were on August 28, 2014 arraigned before the court by the Economic and Financial Crimes Commission (EFCC) on a five-count charge before Abang.
The counsel to the anti-graft agency, Rotimi Oyedepo, had told the judge in the cause of the trial, that the convicts violated sections 19(c) and 17 of the Miscellaneous Offences Act, Cap M17, Laws of the Federation of Nigeria, 2004.
Oyedepo called 11 witnesses and tendered several Exhibits to prove his case against the convicts.
However, the court discharged and acquitted the eighth accused person, Padoun Jacob on all the five counts.
Read more
PLACE YOUR ADVERT HERE
Connect with people interested in education, social, crime and health News!
[2334]