✅ NEW - car park, swimming pool, 24 hours light/security and more.
Human rights lawyer, Mr. Femi Falana (SAN), has said that the invitation of Customs Boss, Hammed Ali by the Nigerian Senate is unconstitutional.
Falana in a statement on Sunday argued that the invitation extended to Ali by the Senate was unlawful.
"The Senate lacks the vires to summon the CGC on policy matters.
"Indeed the oversight power of either House of the National Assembly is not at large but limited by section 88 (2) of the Constitution," Falana argued.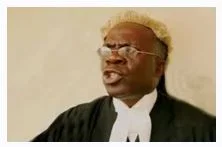 He cited the Court of Appeal decision in the case of El-rufai vs House of Representatives, where the court, relying on the case of Senate of the National Assembly vs Tony Momoh, held that, "No power exists under the section for general investigation not for personal aggrandisement of the House."
"In the instant case, the Senate is not conducting an investigation but challenging the policy of the Nigeria Customs Service on payment of duties.
"With respect, the summons served on the CGC is illegal and unconstitutional as it cannot be justified under section 88(2) of the Constitution," Falana contended.
He also faulted the insistence of the Senate that Ali must appear before it dressed in the Customs uniform.