✅ NEW - get your business listed and your information shared across social media.
Some officers of the Nigeria Customs Service, Federal Operations Unit, Ikeja, last Friday, allegedly attacked a magistrate, Lekan Aka-Bashorun, for impounding their vehicles.
PUNCH gathered that the customs officers allegedly slapped Aka-Bashorun, while two policemen and two paramilitary officials attached to the Lagos State Taskforce on Environmental and Special Offences (Enforcement) Unit, were also beaten up.
It was also gathered that court exhibits and recording gadgets were also allegedly damaged by the customs officials, who reportedly claimed that their vehicles could not be impounded by the Lagos State Mobile Court.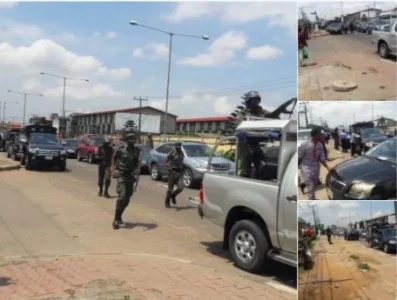 PUNCH later learnt that two customs officers were arrested by the police during the affray, while officials of the mobile court were quickly taken away to safety.
It was gathered that the two customs officers – identified as Goyit Bulus and Sunday Olugbogi – were later released on bail.
The Public Affairs Officer of the task force, Adebayo Taofiq, confirmed the attack, adding that items taken away by the customs officers had yet to be returned.
He said, "One of the customs officers, identified only as Yusuf, slapped the magistrate for ordering his court officials to impound the NCS officers' private vehicles for traffic offences
The Nigeria Customs Service Public Relations Officer, FOU, Ikeja, Ejesieme Uche, confirmed that there was a clash between customs officers and policemen attached to the mobile court, adding that the heads of the NCS and the police had met and resolved the matter.